Tricker's Bobby Cordovan Derby in Black
This is an unboxing video for Tricker's Bobby Cordovan shoes. Bobby is a model name for Tricker's cordovan derby shoes. Tricker's Bobby looks very similar to Tricker's Robert, which is another cordovan shoe from Tricker's.
I bought them from Tricker's Winter sale, the sale is still going on at this time so check them out!
I do not need to talk much more about the quality of Tricker's shoes. I have a few pairs of Tricker's and most of them had a superb quality. I know that some people do have issues randomly, but for me there were no issues. Since all the shoes are handmade in Tricker's factory in Northampton, UK. It is inevitable that there will be a humanly mistake.
Although if I have to say one thing that I found, is that I think the shoes were stored in the factory for a while. The Cordovan leather had a bit of discolouring. Now, it's not something that everyone would catch and it would bother people. Also, this is a very quick fix. Just use your Cordovan shoe cream. You can use any of your favourite brands, and it will be fixed easily.
The soles on these shoes are "Double Leather Soles" that means that there are two leather soles stacked. Whether someone likes double leather soles or not is a personal preference in my opinion. I personally enjoy double leather soles much more than single leather soles. I am 190 cm (around 6'3) and my weight is around 110 kg (around 220 lb). I am heavier than an average person and single soles can feel uncomfortable to step on sometimes. I could feel the ground and there is less support. 
Double leather soles are different for me. I get more support from these and they are more comfortable. People hate double leather soles, because they can be too stiff. 
They are Goodyear storm welted. So in theory you are able to get them resoled after you are done with Tricker's refurbishment programme.
2298 Last

True to dress shoes size. Could get a half size larger if you want with thicker socks. 
My bannock size is between 11.5 and 12. I wear UK 10.5 with my Tricker's Burford and stow, and with most British shoemakers like Cheaney, Crockett and Jones or Grenson. I wear UK 11 for sneakers. US 11.5 in Allen Edmonds Stranmok. Sometimes I choose UK 11 when the last is a bit narrow because of my weird looking pinky toe on my right foot or if I want to wear the shoes with thicker socks.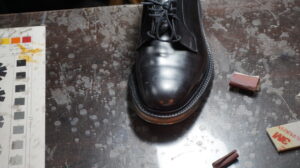 On the website, Tricker's didn't specify which Cordovan they used for Bobby, but Tricker's main source of Cordovan is from Horween. The shell on these are surprisingly easier to shine compared with Shinki Hikaku Shell on my Meermin Boots. I do enjoy wearing both leathers, I won't choose my favourite. They both have their own characteristics and are enjoyable in my opinion.
You would not regret it if you ever want to try cordovan shoes from Tricker's and I would enable anyone who is thinking of buying one.