Crockett and Jones Chelsea 11
I love the look of chelsea boots, even though sometimes they don't suit me. It's a bit sad because my feet are a bit flat and chelsea boots do not look great if they do not have good support or a big profile. But that does not stop me from buying Chelsea boots!
Chelsea boots are one of the styles that is very easy to find in the UK and also very popular footwear for business casual occasions. This review will be about Chelsea boots from a very classic company in the UK, Crockett and Jones. 
A lot of you guys will already know what Crockett and Jones is, so I won't go into too much detail about their brands. Simply put, Crockett and Jones is one of the best English shoemakers located in Northampton, UK.
The official name of these boots is Chelsea 11. Compared to other Chelsea boots from Crockett and Jones, Chelsea 11 has a bit more rounded toe-box shape. Other Crockett and Jones chelsea boots like Chelsea 8, have a pointier toe box.  
I know traditionally speaking, chelsea boots have pointy toe boxes rather than round ones. But, personally, I prefer my chelsea boots with round toe boxes. I guess this is because it's more accommodating to the width of my feet. Also, I think they can be worn casually as well.
Chelsea boots look very similar from a distance and a lot of people think that all the chelsea boots have the same design but they really do not. The biggest difference often comes from the number of pieces of leather used on the upper. I believe it's more difficult to craft chelsea boots with fewer upper pieces.
The upper design on these Crockett and Jones chelsea 11 boots are made of three pieces. One on the vamp, one on each side of the boots. In theory, less stitching on the upper means the boots are less likely to break, because stitches holding the leather together will be less durable compared to upper entirely made of leather. 
So Crockett and Jones used double stitching on this stress area where the pieces of leather are connected. This double stitching is used around the elastic bands and also to hold the upper and the lining together. This will help the upper structure to be more durable. 
The upper leather is Dark brown scotch grain. Scotch grain is a very good quality leather. The leather itself is not very thick, supple yet it feels strong. Crockett and Jones does not disclose their leather sources. But they said it's European calf skin. I enjoy the leather rolls that the soft grain leather creates. From my experience, I have had other shoes that are made of grain leather, but they were too stiff and did not bring any joy from wearing them. But the leather on these chelsea 11 is very soft and comfortable to wear.
Chelsea boots always have two elastic gussets on the side and do not have a fastening method. The elastic bands feel strong and not too thin. However, I have seen better elastic bands. This is a tiny bit disappointing, but we will see how the bands will hold up. I previously had a terrible experience with one of the brands before. You can check this on my youtube.
The boots have one cotton pull tab on the rear side to help you to put on chelsea boots. I guess the height of the boots is low enough that you only need one pull tab. Some people may prefer to have two pull-tabs, but I did not feel any discomfort from the boots having only one pull-tab on the rear.
Crockett and Jones Chelsea 11 Outsoles
These Chelsea boots use Vibram Carrarmato outsoles. The design is covered with rubber studs to support your walk. I found the outsole very comfortable and light as well. It's almost a light version of commando outsoles. I do not have any complaints about the Vibram Carrarmato except for the yellow logo sticking out of the bottom of the sole. But of course that does not stop me from liking these boots.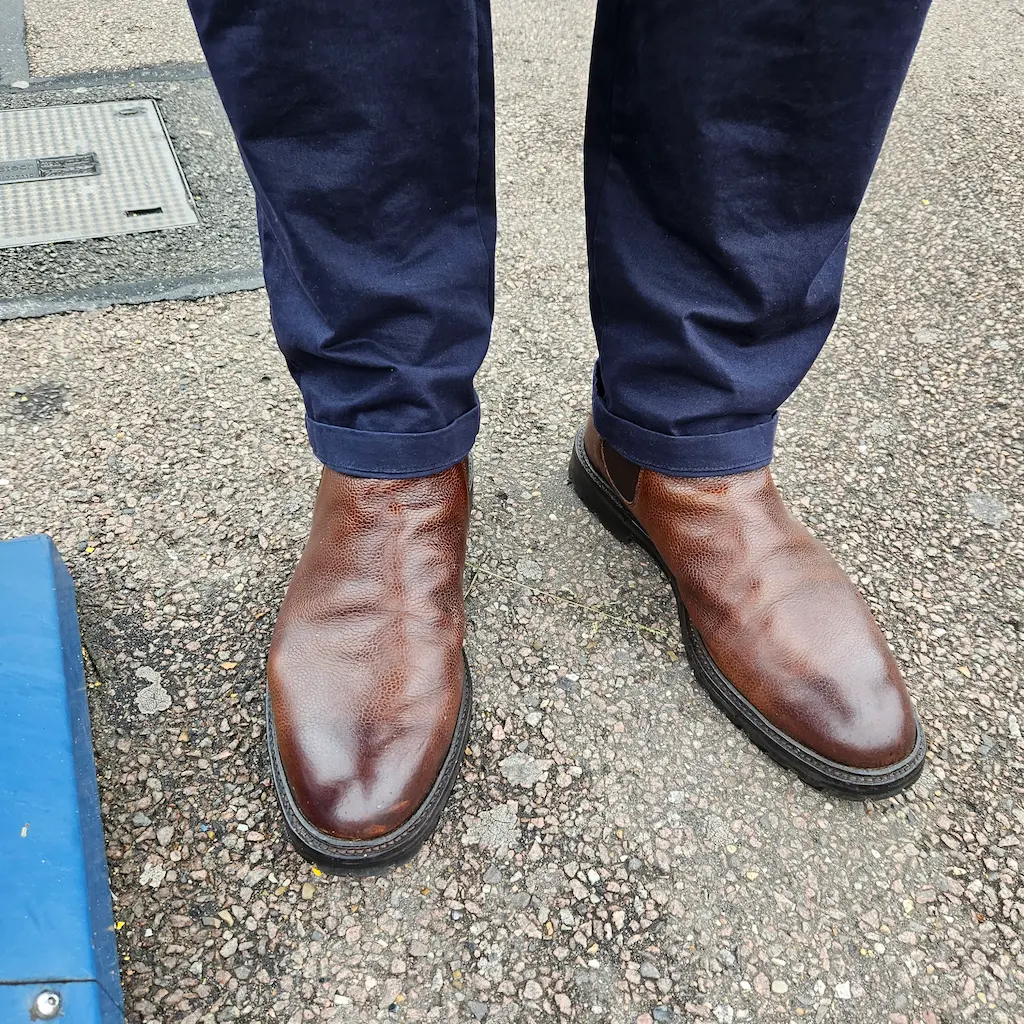 Crockett and Jones used these Vibram Carrarmato outsoles on a lot of their new models and I think the low profile of the Vibram Carrarmato it keeps it more casual and I think it's suitable for people who hate chunky outsoles but still have good traction on their boots.
Of course the boots are 360 degree goodyear storm welted, which allows them to be refurbished later on. The insoles are leather and the lining is also leather. Again, Crockett and Jones does not disclose the source leather and they are very soft, giving a boost of comfort.
Crockett and Jones Sizing
Crockett and Jones do not offer wider width with their products. I think it is a bit of a shame as it does not accommodate everyone's feet. I heard that you can ask during the MTOs (Made to Order), but their stock models do not have different width sizing.
Crockett and Jones has 335 last for Chelsea 11. It's a pretty generous last, but not too generous. These are size UK11. It feels really good, but I feel like maybe half a size down and a width up would have been dreamy. So I guess that concludes that it's a tiny bit long and very slightly narrow for my feet. But it's not notifiable or uncomfortable. 
For your information, my brannock and shoes are listed here. So please go and have a look. If you have any questions, please feel free to let me know.
Personal thoughts on these.
I do love them, I have already mentioned what I wanted about the sizing, but overall an amazing pair of boots. One of the best things about them is that they looks very nice, and also comfortable to wear. These are currently my go-to chelsea boots to wear. I think Crockett and Jones Chelsea 11 can both be a bit formal and casual.
In terms of pricing, these Chelsea 11 is currently 500 GBP on their website. That is around 600 USD.
Do you think Crockett and Jones are worth their price?
I would say yes, Crockett and Jones shoes are very durable, produced with fantastic quality, and really comfortable to wear. You will most definitely wear these for a long period of time and chelsea boots are timeless classics.