These are Red Wing 8131 oro russet moc toe boots. You will be able to find so many reviews about Red Wing moc toes. This is my review on the Red Wing moc toes, and it feels like I really need to review these great boots next. My moc toe boots are 5 years old and counting.
The attached photos were taken when I first bought them in 2015. I was still a University student in the UK and I found a great discounted pick up for these boots from Sports Direct. To be honest, back then, I didn't know any about shoes or boots but I just enjoyed the look on the boots. The colour on the boots and the shape was great enough for me to grab them. It was a lucky pick up to be honest, I remember buying them less than the half price of what they are. Thesedays, Sports Direct does not carry Red Wing shoes, but I was just lucky I guess!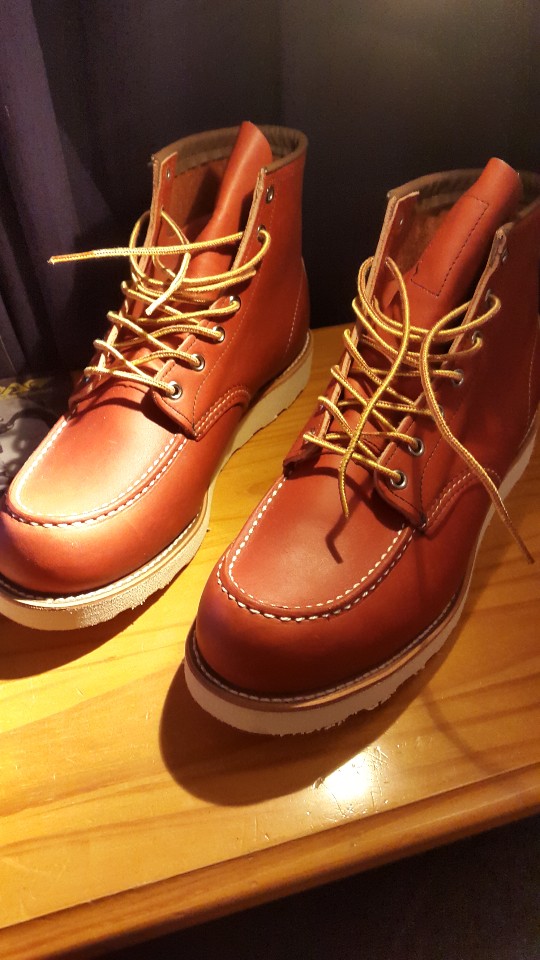 For anyone who doesn't know what Sports Direct is, it's a warehouse sports equipment and clothing store. 
I have worn them to so many places including beaches, mountains and muddy parks. After 5 years, they are holding on very well. Since I have other boots, Red Wing boots were not the only boots I wore for 5 years, but whenever I needed a hard wearing boots, these were my first choice. 
The model name of the boots are Red Wing Moc Toe 8131 Oro-russet Portage. These are made in Minnesota, USA and the leather is from Red Wing's own tannery named S.B Foot Tanning Co. Moc toes are from "Moccasins" which also have the U shaped toes.
Last: 23 

Size: US11, UK10

Very Spacious and volunmous

Recommend you to size down 1 to 2 from normal sneaker size but it's the best to try them in a store.
The moc toe boots are very spacious. I mean Red Wing boots are very spacious in general. From your normal sneakers size, you will probably need to go 1 to 2 size down. I went with UK10 size after reading reviews about it online. I wouldn't mind it being a half size smaller to UK 9.5 but haven't tried them on so I wouldn't be able to tell you. UK10 is not too big, but the toe-box was very roomy. So I put insoles in them to make them more comfortable, I have a slight flat feet, so I used arched insole and they fit much better with an insole.
Normally I wear US 11.5 (UK 10.5) with normal Dress shoes and US 11.5 (UK10.5) and US12 (UK 11) with boots. I wear UK 11 and sometimes UK11.5 for sneakers, but that depends on the brand. 
Red wing 8131 boots come with the gold and tan taslan laces. Most of the classic moc toes come with taslan laces or leather laces. 
I changed the laces for these boots. The laces are natural cowhide tan leather and I made the laces with a local leather workshop. It's 3mm thick and 48 Inches long. I used them for about 5 months now and they are holding very well. I expected them to snap at certain points, but there was no snapping. Of course any laces, if you pull too hard it'll snap, it's not indestructible.
The beauty of the natural tan leather laces is that the colour will eventually change. The laces got darker over time. 
One downside of these laces is that since the leather is all natural, you will be able to see some of the grain of the leather flaking off. It can seem messy, but the amount is not too much that it'll bother you in everyday wear. 
Red Wing Moc Toes Oro Russet Leather
Red Wing is known to have their own tanneries in the US. That is why the boots can be produced at a reasonable price. The leather used on these boots are "Oro-Russet". It's oil tanned and the colour is darker than the classic model 875. 
The oil tanned leather is amazing. It doesn't scuff easily. Even it does scuff oil-tanned leather is easy to care for. Also it does not need a lot of treatments or cares. After they are broken in, they will be one of the most comfortable boots that you have. Also, oil tanned leather is more water resistant than other types of leather.
I had these for 5 years. Honestly, I do not remember how painful breaking these were. In a way, that is great news because breaking them in was not a painful memory for me. I remember some boots that gave me massive blisters for a very long time, but not these ones. They become extremely comfortable after a few wears.
The soles on the Red Wing 8131 are crepe wedge soles. The crepe wedge soles make it more casual and enjoyable. It's your personal preference on which soles you like and often people complain that the crepe wedge soles get worn off quicker. Personally I enjoyed these soles and I don't think that is true. They are less dense compared with Commando soles or Dainite soles but they are much thicker, and last almost as long as other soles. 
I believe that Red Wings with crepe wedge soles do not have shanks. They do not need shanks because your entire feet will be resting on the soles. That has pros and cons. It makes shoes airport friendly. If you are someone who has to go through the airport often, you won't have to take these off as often. Downside is that you need to find a proper cobbler who will put shanks in there for your next restoration of the boots.If you choose non wedge soles and if the boots don't have shanks, it'll be uncomfortable super fast later on, and you may have to find someone who can put shanks.
I know that the soles are dirty and worn out on these, but I won't get them re-soled yet. I will wear them a bit more maybe another 5 years…