Alden 403 Brown Chromexcel
Alden Indy boots are moc toe boots made by Alden shoes co. It's a popular model by Alden because Indiana Jones wore it in his movie. Harrison Ford was supposed to wear Red Wing boots, but he wore these while he was working as a carpenter and he liked it and decided to wear it in the movie. 
Alden's Indy boots were a bit of a hot topic recently due to a scandal related to their quality. Those who watched Rose Anvil's video will know that he talked about the sub-par quality materials used for these Alden Indy boots. Well, as a matter of fact, I have a pair too.
To be honest with you I love mine. 
The major reason why there is a big discussion surrounding Alden boots, especially the Indy boots, is because of the material used to make these Alden boots. Rose Anvil has cut open the boots and showed the inside. According to the video midsole, heelstack and the heel counters were all made of leather board. Also, the upper leather, which I thought was Horween Chromexel, looked like an inferior version of Chromexel leather. I don't know if we need to care for a particular type of Chromexel leather or maybe this is something that people did not discuss about?
For those who do not know what leather board is, it's a type of material that is created by mixing byproducts of leather production and rubber. It is of course less durable and also cheaper compared with the traditional rubber.
As many of you guys know, the Alden's 403 model became popular after Indiana Jones started wearing them.
On Alden's website, the 403s are currently sold at $607. Now, if we are going to just compare the price, the usage of the leather board is appalling for its price point. Other boots such as White's boots or Viberg which are arguably in the same price point use all leather upper construction. Grant Stone, which was known to be founded by an Alden retiree, offers all leather upper construction at almost half of the price point.
Alden is made in the USA, where the labour cost is higher than other companies that they are competing with. But, so are other brands that offer great boots.
Now, I think I need to own Alden and wear them for a while if I want to talk about their quality. I have my Alden 403 Indy in Brown Chromexel leather. Without dissecting it, the upper is super smooth and the roll on these Indy boots are pretty insane. The moc toe on these boots are just there for decorative purposes. It's just extra two rows of stitching that goes around the upper. For people who aren't using these as work boots, like me, this is purely there for decoration. That doesn't mean I hate this. This represents what Indiana Jones wore to travel around. (Which I am wearing to the office and bars now)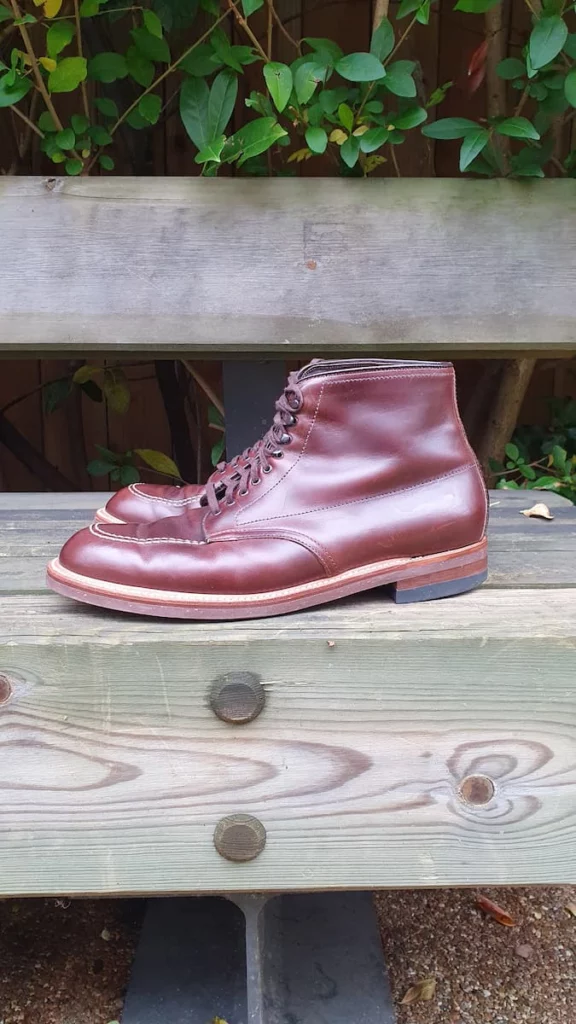 Alden Indy 403 boots are really comfortable. The cork outsoles are less slippery compared to the traditional leather outsoles and give a good grip on the wet London pavements (or sidewalks). I think it's the leatherboard that also gives a bit of a bouncy feeling to each step too. The upper chromexcel leather is very soft and gives no discomfort to wear. 
The Alden 403 sizing is US 11.5 D. I think I could have made a better choice on sizing. I was told by some people to go half a size down for wider feet from normal sneakers, so I chose US 11.5 D width. For other North American Brands I usually wear US11. Considering that it's not too big for my feet. But I think US 11 with E width would have been a much better fit. For my next Alden boots, I will go with US 11 E. 
The last used on these are Trubalance last. It's Alden's most spacious last. 
Overall I am pretty happy with the boots. Yes, the price is eye watering, but there are boots that are more expensive and don't even fit properly or really uncomfortable to wear. Maybe these won't last as much as other boots that are made of 100% leather. However, I do believe that they will still last a very long time.
Would I buy Alden again? Yes, most definitely, if I find a good deal for Alden I will purchase them again.
Is Alden Indy a good quality boots? All in all, it does it's job and the chromexcel leather is beautiful. Let me know what you think.