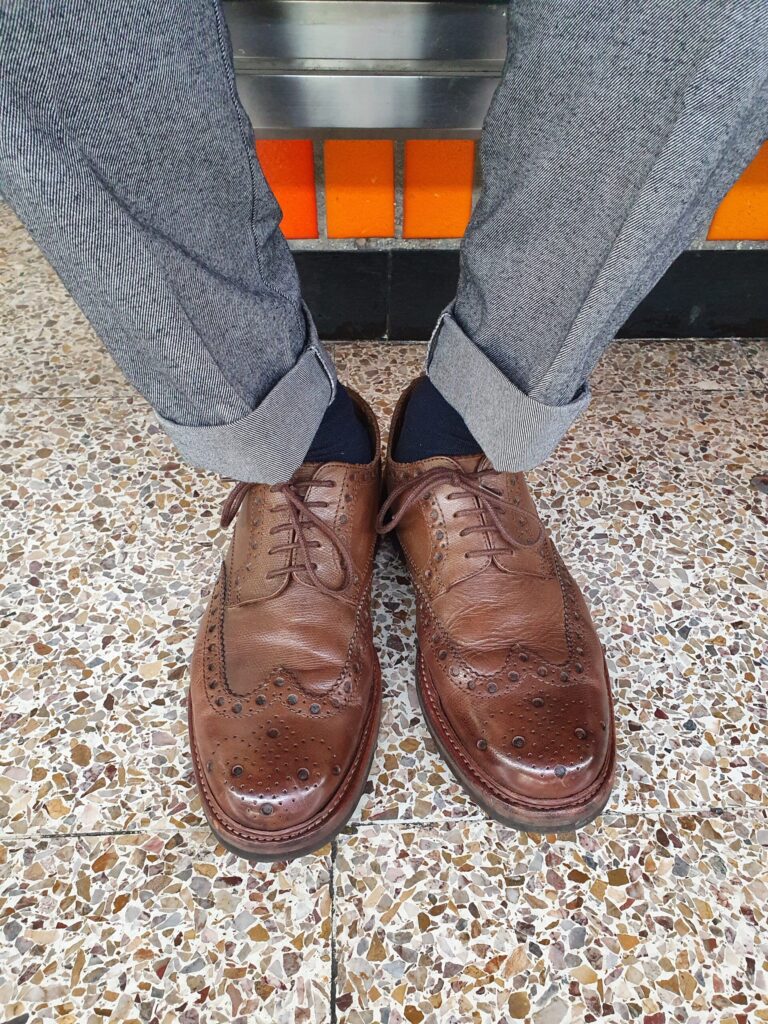 I had Grenson Archie brogue shoes for 5 years and it's still going strong. Grenson Archie is comfortable, strong, and best of all I had them for 5 years and they still look great!
Grenson is a British shoemaker that was founded in 1866 in Northampton England. Grenson was founded by William Green, who then passed away and when his sons took the business changed the name to Grenson. Grenson has over 150 years of history like many other shoemakers located in North Hampton.
The production line for these is called Grenson: two or G: two. G: Two lines are the lowest grade for Grenson shoes, and they are made in India. However, even if they are made in India, the quality is still great and apparently they are more handmade then some of the Made in England ones, because of their lack of machinery. I did read and hear that people dislike G: Two lines, because of their Quality control issues. With my pair of Grenson, it was not an issue.   
I purchased Grenson Archie in 2015 back when I was studying at Bristol University, UK. I was always into shoes but I was mostly interested in basketball shoes and sneakers. I needed a pair of shoes to wear with my suits. I found Grenson Archie, which was discounted for Christmas sale. So I bought them. When I received the shoes I was amazed by the quality and these were in a red box, which I loved. I don't have any photos of it from 5 years ago, because I changed my phone a few times and also I didn't know I would be blogging about my shoes 5 years ago.  
Funnily enough, phones are almost 5 times more expensive and they need to be changed quicker than these shoes. 
I wore these to a lot of places including my trip to Amsterdam, Netherlands, friend's parties in Chester, UK. They have been rained on, snowed on, been in the mud as well. I mean, I didn't wear them every day, but I would say that I have used them more than normal sneakers would last.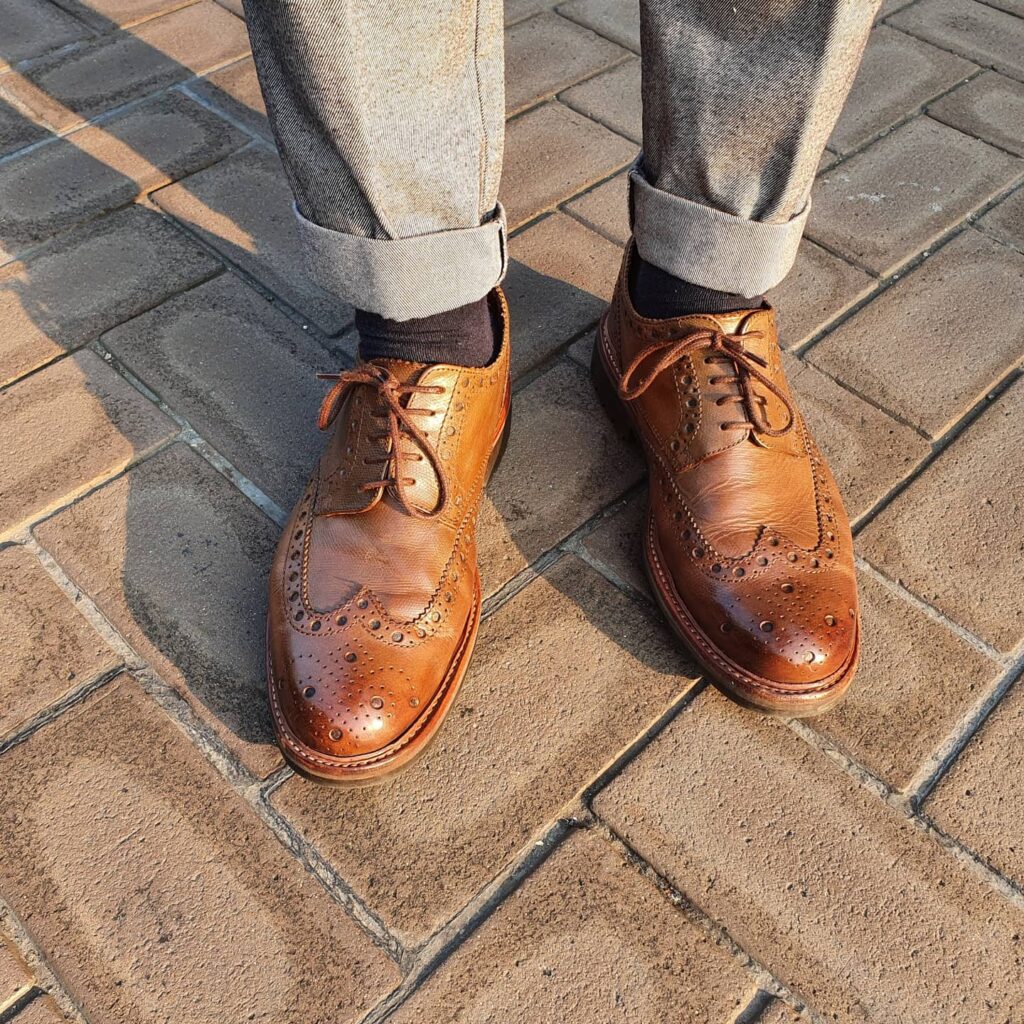 The leather type is neither a regular smooth calf leather nor a regular grain leather. It is said to be grain leather in the product description, but it is not exactly the same. It's grain pattern almost reminds me of reptile leather. It looks nice and I love the colour, but I would say it's not as aesthetic as normal grain leather. 
The leather on the shoes is very sturdy and scratch proof. I wore the shoes to many places including clubs in these and they are not very scratched. They are also made in other leather types including smooth calf leather. I would assume that they get scuffed easier than these. 
At the toe area of the shoes, is also grainy but during the manufacturing process I assume it's hammered or stretched, so it's not as grainy as the body of the shoes. It's easy to be shined and polished. Compared to the body part which is hard to be polished nicely. 
Overall I would say it is very suitable for a beginner who just learnt how to polish shoes and for someone who wants to wear them anywhere that they don't have to care about scuffing the shoes.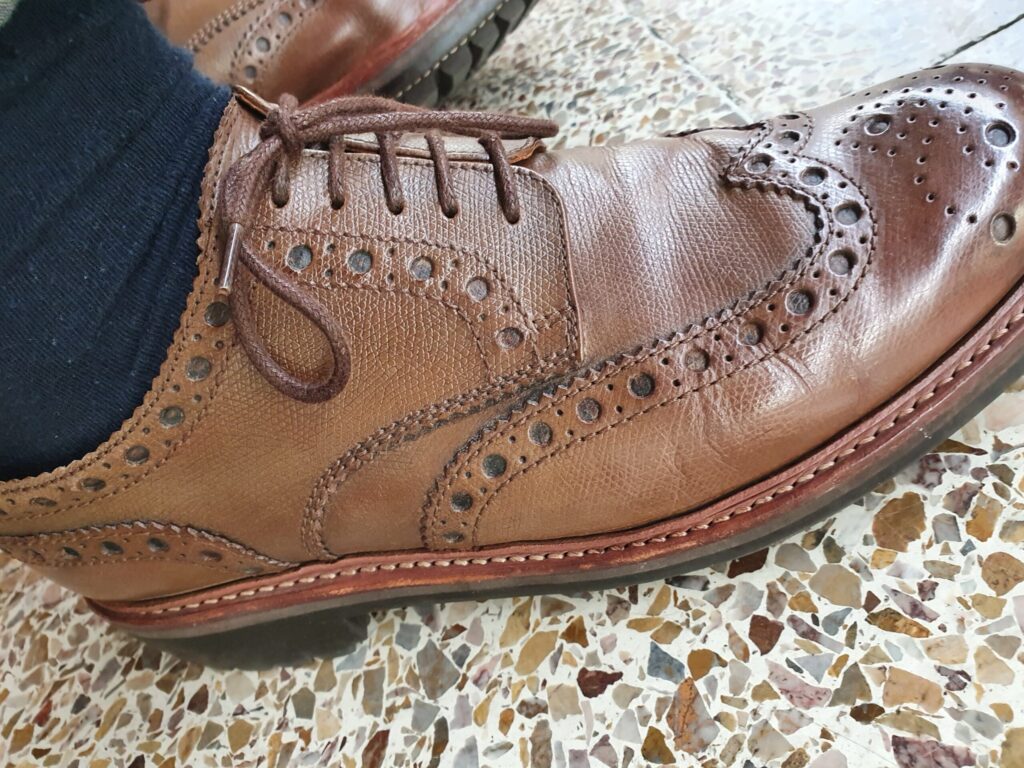 Grenson Archie C comes in Commando soles. Commando soles are very sturdy and hardwearing soles. Commando soles have their own unique pattern/grips and it's really good for most surfaces. Even on icy surfaces, I would say it was pretty decent. Although it is not 100% non-slip on ice, compare to other soles like leather soles or Dainite soles, it was better on ice. 
The soles are Goodyear welted if you don't know what it is, I have written about it so go ahead and read it! I have worn these during the rainy days and every time, they were perfectly waterproof. The leather did get drenched a few times, but I was able to recover it with proper care. Overall the soles on these are great makes me want to try different soled versions of Archie.
The sizing on these are not like your regular shoes, they have different width sizing options. F and G. F is the usual width for most people and G is a wider width. Grenson Archies only come in G width. Normally I wear UK 11 on regular sneakers like Nike, Adidas, and UK10.5 for dress shoes.  For this pair, I have bought a UK 10G size. Although I have bought UK 11G for my Grenson Fred, which is a boots version of Archie. I will explain why on the Grenson Fred review. 
10G fits me well, it's not a perfect fit for my feet but they are comfortable for me to wear it for 5 years. Heel slips are minimal with a proper shoe tying. Possibly gone for 9.5G as well, but haven't tried them and didn't want to risk it. If you have a chance to try them on, I would recommend trying them on first. 
Grenson Archie or Fred is known for their oversized brogue patterns. While some other brogues have subtle broguing holes, these have big patterned holes that cover the entire shoes. That's why it is very iconic and easy to spot. I would want to say for anyone who likes brogues it's worth trying them. 
I personally really enjoy brogues and their different patterns on the toe box. There are 6 big holes on the toe box, 5 forming an arrow and 1 in the bottom. The top part forms something like a clover with a diamond, or a rhombus if you want to be accurate. 
I remember paying around £150(GBP) during Christmas sales in 2015. I think that was around $230 with the exchange rate 5 years ago. Now it should be around $180. If you want to buy new ones the full price of these is around £260 ~ £280 online. They do go into sale quite often, so if you can wait, it's not a bad deal to grab them while they are on sale. In the end, it's an investment in a pair of shoes that will last you a very long time.
Is Grenson Archie worth it?
Grenson Archie is a very nice pair of shoes for anyone who is interested in fine shoes but doesn't know where to begin. The price is not too expensive for a pair of shoes that will last you for a very long time. For my Grenson shoes, there were no quality control issues. Stitches were done properly, the leather quality was the same throughout the shoes and I didn't experience any negative aspects with Archie. 
Now if we compare these with more high-end shoes or even Grenson's made in England brand, we will be able to see the quality difference, but the price is totally different. 
I really want to try the Triplewelt line of Grenson Archie, and see what is different. Is Triplewelt worth it? Is the leather quality going to be different? Let me know in the comment if there is a difference.