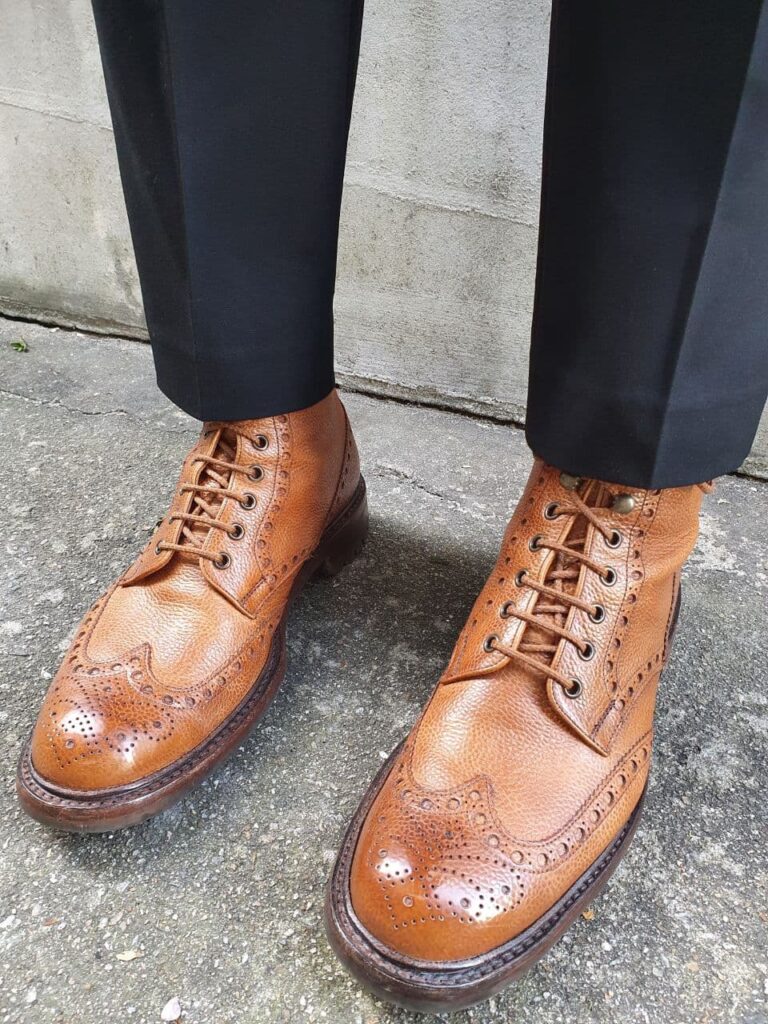 Tweed is a brogue boot from Joseph Cheaney and Sons. Cheaney is one of the fantastic shoemakers from Northhampton in the UK with a long, rich history. They are currently managed by the Church's family who used to own Chuch's shoes.
I purchased these boots in 2016 brand new from Afarely's country attire. So far, the boots have been great and they are very comfortable. I wear these boots at least once a week, during the cooler seasons. When I was living in the UK, I used to wear boots all year round. Sadly, I cannot wear any boots during the summer in Korea. Summer in Korea is too brutal for me.
Cheaney Tweed Soles and Construction
Cheaney Tweed C boots have commando soles as outsoles and are Goodyear storm welted. Cheaney has other Tweed boots in different soles. I like commando soles and they did not feel heavy or bulky and they were very comfortable right off the box. After a few years of wear, the soles still provide great traction and are sturdy. Some people think that Commando soles are overkill for the city, but I personally think, during the winter commando soles are necessary for the tiled floors with snow. They do not provide great grip on ice, but it's better than leather soles when needed. The welt and midsoles are made of leather and the boots didn't have any quality issues with the sole attachments.
Cheaney stated that they use wooden shanks for all of their shoes. Personally, I prefer shoes with wooden shanks or fibreboard shanks. Wooden shanks are airport friendly and feel more flexible compared to steel shanks. Also, they make the shoes a tiny bit lighter. I know some people who will love lighter shoes. I do not use these boots as workboots and I also don't have a job that requires me to stand up for an extended period of time, so I think the wooden shanks are perfect for me.
Cheaney Tweed boots have five eyelets and three speed hooks. I am not sure about how speedy the speed hooks are sometimes. With normal eyelets, I just loosen the laces a bit to take my boots off and on, while for speed hooks I need to tie the entire three hooks to put the boots on. I do like how they look on the boots though, they look more aesthetically pleasing compared with just eyelets.
The leather used on Cheaney Tweed C is hand-burnished almond grain leather. The leather quality is honestly one of the best I have ever had. Other grain leather boots that I own like Meermin are so tough and stiff. However, the leather on these Cheaney Tweeds is really soft and yet feel very sturdy. I didn't have any break-in period for these when I first bought them. 
The colour of the boots is originally in almond. The boots were less brown compared with an actual almond, but over time they have become darker in colour. Sometimes they look more like a tan colour under the sun. On their actual website, the boots look yellow, but it's not as yellow as they look on screen.
I am between 11.5 and 12 in Brannock size and the boots are in size UK 11. I wanted to wear them with thicker socks when I first got them. I am sure I can also wear a UK 10.5 without any problem if I wear dress socks or thinner socks.
I wear UK 10.5 With Tricker's boots 
I wear US 10.5 which is a UK 9.5 for Red Wing moc toe boots
I wear UK 10.5 for Crockett and Jones Connaught Oxford shoes
The last used for Cheaney Tweed is number 12508. The last shape is round and also quite roomy. If you have narrow feet, you may find this last to be a bit big.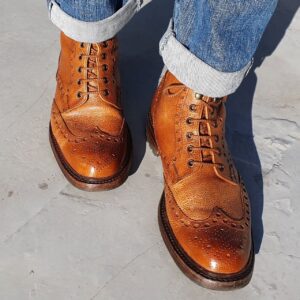 Cheaney Tweed Brogue Pattern
One thing I enjoy wearing brogues is that I love seeing different brogue pattern on the shoes. The brogue pattern on the Cheaney Tweed is also different from other brands. There are six big dots and many other small dots making the shape around the big dots. The small dots make four curves and two diamond in between two curves. On the body of the shoes, there are normal broguing patterns looking like :O:O:O:.
Online, the shoes are priced at £395 and often they are on sales. I think they are worth it in terms of their quality and aesthetics. Theoretically, they can last a lifetime so it is a good investment.
I didn't have any quality issues when I first got them, except that one of the eyelets were collapsed. It wasn't a hard fix; I just used a tool to open it up and it works fine. Besides that, the shoes did not have a single mark and everything was where it was supposed to be.