There is no doubt that everyone interested in shoe polishing and shoecare has heard about Saphir's Renovateur. Saphir Renovateur is a shoe polish that is often called liquid gold for its hefty price. The price of Saphir Renovateur is around $22 to $25 for a 75ml bottle. That is around $340 per liter of Saphir Renovateur. If you think about it, it sounds like a lot of money we are spending to make our shoes look good. However, it should take from a few months to a few years to finish the whole jar of 75ml renovateur. That is because you do not need to care for your shoes everyday, or even every week.
To explain a bit about Saphir, Saphir is a French brand that makes anything related to shoes or leather. Saphir produces products such as leather polishes, leather creams, shoe accessories and other products that will help you to keep your shoes and boots clean and tidy. Saphir Renovateur is one of their most popular products.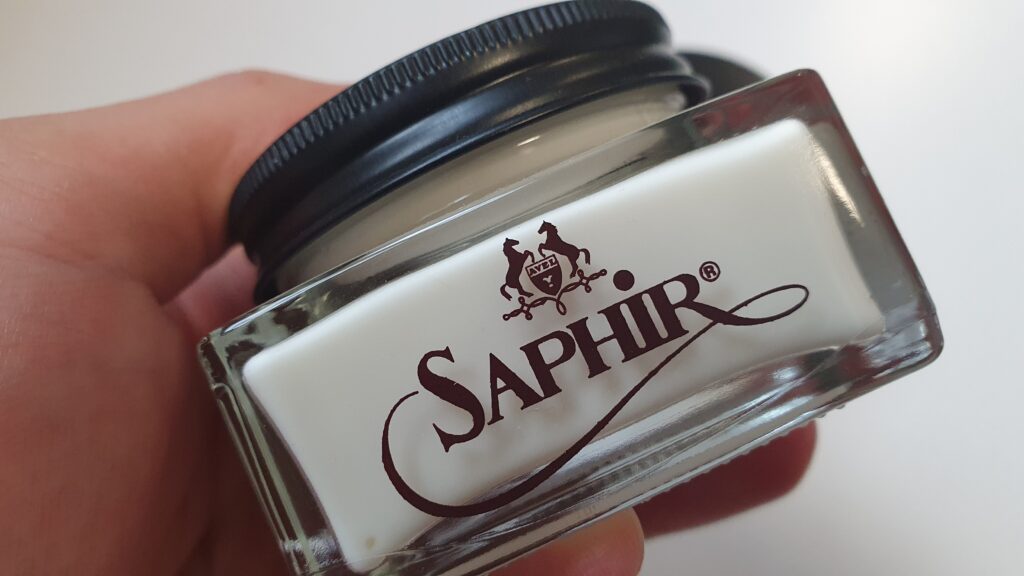 Saphir's products are also known for their natural ingredients. Renovateur is also made without any petroleum. Usually shoe creams or polishes are made with various chemicals and usually petroleum based. Not that this is extremely bad, but there are a lot of arguments against using petroleum based shoe polishing products on your shoes. One of the reasons is that since leather is a natural product just like your skin, it's better to use shoe cream that is made of natural ingredients rather than chemicals. Over time, wrong usage of petroleum based products will block the pore on the leather and lead to a shorter life of the shoes.
Previously, Saphir Renovateur was mink oil based. Although it is water based, it contains enough wax to protect your shoes. So after using the product, you will see that the wax will shine on the shoes and has a slight waxy feel on the leather. I like to use them on shoes that I haven't polished for a while before I actually give it a proper shine. It helps to moisturise the shoes and make them look newer.
These days, Saphir Renovateur is made with macadamia nut oil. Saphir has been more environmentally conscious and realised that mink oil is not sustainable and not environmentally friendly. Therefore, it seems like they have changed their formula and produce the macadamia nut Renovateur cream. You may be wondering if the macadamia renovateur is still good to use. I did a quick experiment and yes, it is still great and does the same job as before. Even better, because it does not create any nasty smell that the previous mink oil based Renovateur used to give. Don't get me wrong, all of the shoe care products have nasty smell. 
So Saphir Renovateur sounds amazing. But my question is this: Is Saphir Renovateur good to use for everyone?
If you are someone who is looking to casually polish and clean your shoes before you go to church or just want to clean shoes once in a while for your work. I do not think you need to have Saphir Renovateur. If you have it, great! If you want to buy it, go ahead and buy it. But if you are someone who rarely cares for your shoes you don't need this and probably better off just buying cheaper other alternatives. Furthermore, I think for any beginners, Saphir Renovateur is not useful. I am not saying that Saphir Renovateur is only for the professionals. However, it is pretty difficult to figure out the proper way to use it. 
Saphir Renovateur feels like any other shoe moisturizer or shoe oil, so it feels like you can use a lot of this product on any type of leather. But in reality, Saphir Renovateur is actually a very strong product and also it contains wax. If you put too much of this product, it'll eventually crack or create a lot of white wax residue on your shoes. Also, despite people praising Saphir Renovateur and saying that Renovateur can be used on any type of leather, it should not be used on certain leather types. It's very strong and harsh and it'll decolour your shoes.
There aren't any clear instructions from Saphir on how to use this product, you will be able to find a lot of Youtube videos online showing you how you can use Saphir Renovateur, but to be honest, until you actually test them out yourself, it is really hard to know how to use this properly. Some of you might think, this is not rocket science, just put some on your shoes and use a brush to buff them up! I mean, yes that is true, but in this world, there are some people who have never seen shoe wax before and they may be confused on how to use it. I mean personally I never had a cat as a pet, and I don't think I will even know the basics on how to care for a cat, while for some people it's very easy.
Buy and use Saphir Renovateur if you want to use them rarely and in a small quantity. But you will need to test out the product first too. 
Personally I prefer Nappa leather balm instead of Saphir Renovateur as a moisturizer. Nappa leather balm is also an all natural product and it is made of jojoba oil and wheat protein. It is completely unwaxed and less strong compared to Saphir Renovateur. Therefore, Nappa is more forgiving to any mistakes such as putting too much cream on your shoes and walking away from it to collect your pizza. (Which was a mistake I made with Saphir Renovateur) Yes, it is made for nappa leather, but I use this because it contains no wax. I also use additional shoe polish to shine the shoes, so nappa cream has been good for me.
Other types of cream that you can use instead of Saphir Renovateur include Venetian shoe cream or just regular Saphir's cleaning lotion on your shoes. They are all good to use if you use them rarely and to be honest, these days more people want to create patina on their shoes rather than having their shoes pristine and clean.