I had a chance to visit the Berwick store in Korea, take photos, and meet new people.
Most big cities globally, including New York, Tokyo, London, and many other cities, have fantastic shoe stores. I had a feeling that Korean shoe stores are not well-known to people. So, I wanted to go around and introduce wonderful shoe stores in Korea. Luckily, I was able to get in touch with Berwick Korea and visit one of their finest stores in Co-ex Mall in Seoul, Korea. I made sure I visited during the less busy time to not interfere with people's shopping hours. 
Berwick 1707 is a Spanish shoe-maker, they produce shoes in Almansa, Spain, and is owned by Milan Classic S.A. Berwick produces excellent quality shoes that export to countries worldwide. It wasn't too long ago that Berwick 1707 arrived in Korea, but Berwick is gaining popularity faster than any other shoe brand. 
To me, it feels like the number of people who are looking for fine shoes is increasing in Korea. Overseas shoe brands were considered "Luxurious" or sometimes a waste of money. People did not understand the importance of fine shoes; therefore, shoe stores like Berwick could not sell many previously. Recently with the increased interest in fine shoes and increased globalisation. It's not hard to find Spanish Goodyear welted shoes in Korea.
Berwick store is at Co-ex, one of Korea's biggest malls, which is located underneath the Korean world trade centre. This means that you are able to find many other products from overseas at Co-ex. If I am being honest, the mall is like a Labrinth, you will end up going around the mall and will never escape. Luckily, it didn't take me very long to find Berwick; I used a map located in the mall. The outside of the shop looks clean and has an excellent design with a sign next to it saying "Gentlemen's Shoe Store, Goodyear Welted Quality Shoes." 
If you walk in, you will be greeted by well-dressed staff members with hundreds of Berwick shoes. I could tell that they took their time for their shop design. The store had chairs where customers can sit on and try on the shoes and nice carpets surrounding the area. At one corner, they had a small information section about Goodyear welted shoes, showing the process of how the shoes are filled with cork, and get sewn together. They even had models to show the process. They also have a cross-section of a shoe in front of the shop, showing what the customers can expect from the shoes.
Near the counter, you will be able to see that they have a valet box with a variety of shoe creams and brushes. The valet box is there for anyone who has purchased shoes from Berwick1707, and the customers will get a free shoe care service from the staff members. They will not mirror shine it because that will take such a long time but I think this is one of the great customer care that Berwick shoes offers. So, if you have love Berwick I would suggest visiting the shop for free shoe care and for many collections that they have.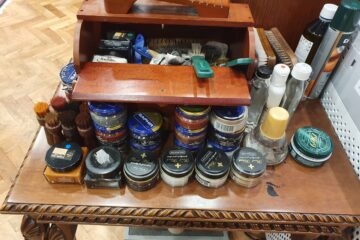 The store also had other amazing products such as socks, ties, sport coats, and bags. These were not Berwick, but are brands worth having a look. 
Most of Berwick's shoes are Goodyear welted, and others are Blake welted. This means that theoretically speaking, they will last forever, depending on the wearer's care. On top of their free shoe care service for anyone who bought their products, they also arrange a refurbishment service for Berwick shoes. The shoes will be sent to a skillful cobbler in Korea and will be repaired for a new use. 
In Korea, the most popular Berwick shoes are the black plain toe derby. I personally think it's because people would prefer to wear shoes that you can pretty much wear anywhere and with anything. Also, black shoes are extraordinarily simple to take care for. It doesn't really show scuffs or polishes easily too. I see many simple black derbies on the street, and many Korean Youtubers recommend buying plain black derbies. I slightly hope that people can see the beauty of wearing other types of shoes, including brogues and monk straps.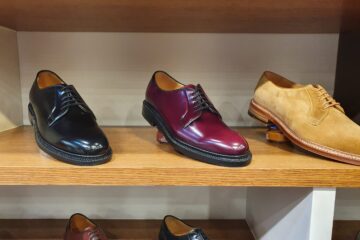 I don't own any plain toe derbies myself so I asked if they have UK size 11 or US 12. Unfortunately, Berwick Korea only carries shoe size from UK 5 ~ UK 10. Therefore I wasn't able to purchase shoes my size. However, I will buy them when I have a chance to visit my family in the UK next time. 
It was so much fun for me to visit Berwick store at Co-ex mall, and It was an excellent chance for me to learn more about the brand. I was never sure about Berwick as a brand because I never really had a chance to look at the shoes. But now I can comfortably recommend the shoes to everyone who is reading this. I thank Berwick Korea and the staff members for accepting my visitation and accepting my interview request. I hope I get a chance to visit again.
Q. Do Korean customers know about Goodyear welted shoes?
A. Not many people seem to know about Goodyear welted shoes. We have something to explain what Goodyear welt is to people. However, Goodyear welted shoes are heavier than regular cemented shoes and some customers prefer light shoes.
Q. How much does the refurbishment service cost?
A. Refurbishment service for Berwick shoes cost around 100,000 KRW ~ 150,000 KRW, which is around $100. The shoes will get resoled, and the upper will come back polished too.